Retox
Meet the newest creation from Al's Robotics, Retox. It's aim is simply, be a fully autonomous real robot. Using the lasted in the line of the ARM robotics interfaces from Al's Robotics
Retox gains it drive terrain from 4 cordless drills powered from a 12 Volt lead acid battery.
In order to control the speed of the motors a interface is needed to convert the electronics signals in to raw power to drive the motors. This achieved from a pair or SSCR_1R2 serial speed controllers, this is the latest speed controller that has loads of useful function and is ideal for this robot as I can write a control program that works on a PC and talks to the speed controllers through the serial port.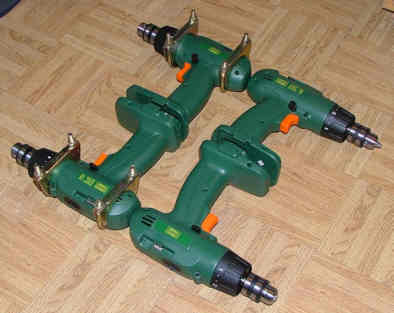 OK, take your 4 drills and move them around until you you get them how you want them.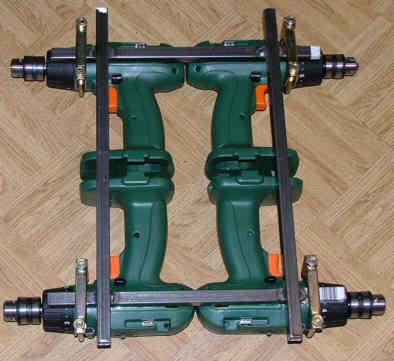 Now comes that tricky bit, how to mount the drill motors to the chassis. Now you could take the drills apart and mount the motors directly or you could use the original case of the drill and mount them using this, which is the best way.
exhaust clamps, OK to mount the drills to the chassis I have used 65 mm exhaust clamps. They are just the right size and shape and make it very easy to mount the drills tot he chassis (also makes for quicker repairs).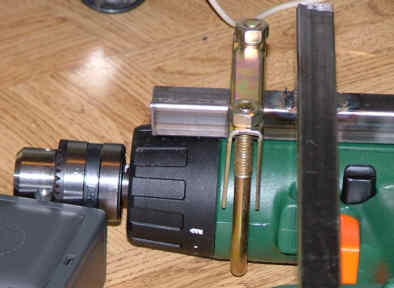 Computing power
For interfacing the robots mechanics to the electronics I have used used PICs which are very good and powerful, but I'm building this robot to be a power freak because I have the hope of putting a vision system in to the robot. So I'm using an old laptop.
These are 486 DX4 100 MHz laptops, both have 520 Mb Hard drives and 16 Mb RAM.
The laptop will be mounted higher up on on the robot when I finish it but this gives you a rough idea of the layout.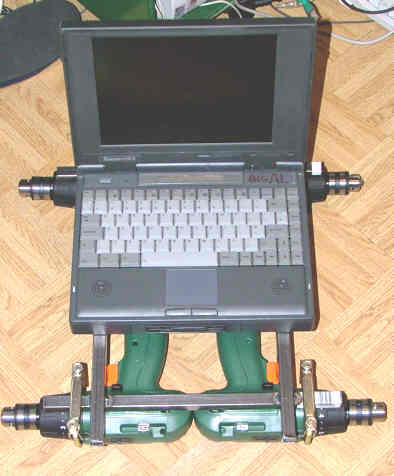 The only problem with the laptops is that they do not have a USB port so I may have to upgrade to something more powerful.