The Bosch GPA 750 Motors, known by us as the "beasts"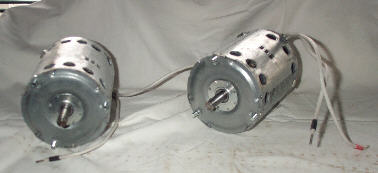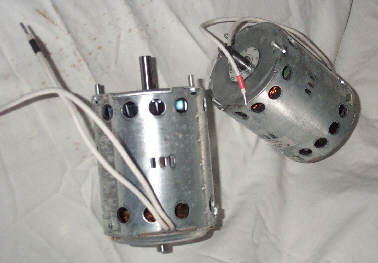 Chain and Sprockets
These are the 1/2 pitch 35 tooth ones (above)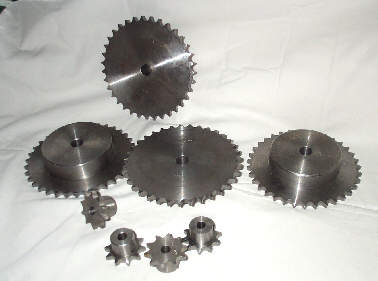 Above you can see the small sprockets that are 1/2 pitch 10 tooth.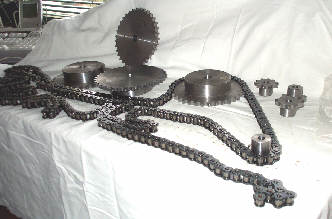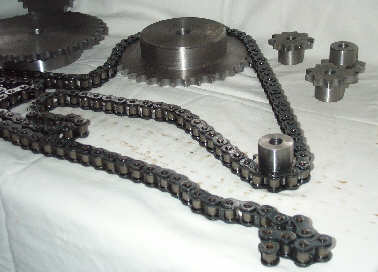 Specs:
2 Bosch GPA 750 motors
2 rear kart wheels and tyres
2 500 Amp self built speed controllers
RC mixer also self built using a PIC MCU, more about it here
12.25:1 gear ratio using chains and sprockets
2 hydraulic rams and gear pump(we still need to get these items, so please help if you can)
hard steel space frame chassis
2 12V 18Ah micro kiel sealed lead acid batteries
Speed controllers:
These are self built proportional electronic speed controllers capable of 500 Amps continuous and an amazing pulsed drain current of 2000 Amp (a little unbelievable I'd say). They are being made up with 20 MOSFETs on each bridge. They are being controlled by a PIC Micro MCU which takes in the PWM from the receiver and turn it into a high frequency PWM to turn on and off the FETs.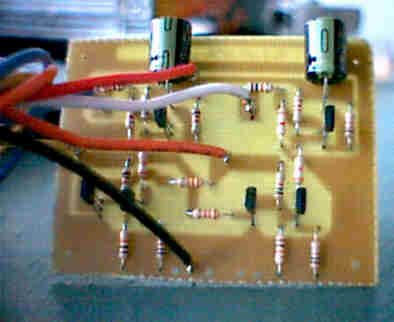 (above) This is one on the many H-bridge controller boards that I have made. Although only two are used at one time for the dual speed controllers I have built many spares just in case. And don't forget that I'm building two dual speed controllers so there's no chance of getting stuck when a controller goes down.
Needle roller bearings for parts on the drive system, two reasons for using these instead of normal ball bearings really, the first is that they are a lot cheaper and second is that they can take bigger loads then ball bearings.
Above are photos of the nylon bearing blocks that we have just made. Surprisingly light and very strong, just the job.
---
RC Robot Mixer.
System start up, system running. The new A.R.M. Robot Mixer has been installed and is running so smoothly it's unreal. It's controlled by a state of the art PIC MCU (in other words a mini computer). It's function is to take our tank style steering and convert it to car style steering making it easier for the rest of the team to drive.
Full Metal Monkey
Latest update:
Well time has past and the Bot has been there don that, it's all over now so I'm selling off the parts for this robot.
Things for sale are:
Chain and sprockets:
4x 35 tooth sprockets, ½" pitch, 20 mm bore with 5mm keyway
4x 12 tooth sprockets, ½" pitch 12 mm bore, 2 with grub screws
chain, various lengths available
4 x 20 mm cast bearing blocks

if your interested in any of these then please contact me.