Tutorials
The aim of this page is to give people a helping hand and ideas for building a robot be it your first or you 100th robot.This page includes what I hope to be useful robotics tutorials. Also see the circuits page for more tutorials and information.
---
With night lighter circuit.
---
Want books on building robots and using PIC Micro controllers then look at my books page.
---
KTX1 PIC Micro controlled robot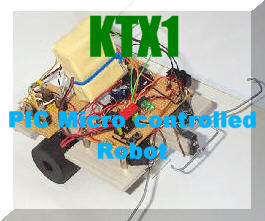 Now with FREE PIC Micro code
---
ARM RAM is a PIC Micro controlled autonomous robot.
FREE PIC code.
ARM RAM is the better out of these 2
---
Which resistor values and what colours are they, find out here.
---
A tutorial for hacking / modifying servos for continues motion.
---