BEAM World.
BEAM robots are probably among the simplest of robots to make that can control them self's. the word "Beam" stands for Biology, Electronics, Aesthetics and Mechanics. BEAM robot builders pride them self's on making robots out of old electronics goods.
On these pages you find photos of some of my BEAM robots and also circuits some of which are totally new in their design to the BEAM builders world.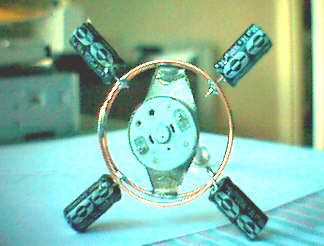 EVO
This is one of my beam robots in it's early stages of being built, it's a simple solar engine. on a good sunny day it moves around by pulsing the motor on and off when the capacitors are charged up.
---
Diode SE
This is my new type of solar engine, it has a variable voltage firing point making it ideal for those motors that don't need to have 2V put through them in order to turn.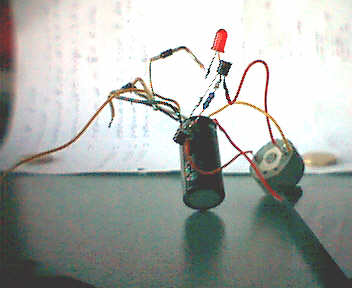 ---
H-Bridge Circuit
Need an easy way to control your low current motors? then this could be the circuit for you.
---
With night lighter circuit.
Ideal for use in a BEAM robot
---
This page tells you a little bit about logic and how it's used, it also has information about JK flip-flop on it. This would be a good thing to read if you'r in to BEAM.
---
HEAD
This head I built has an amazing motor that only draws 2.5 mA.
---
Floppy Drives
What's in them, find out here