Crawler V1
Crawler V1 is a walking robot. It is able to walk trough the use of the tri-gate method of walking where you always have three legs on the ground at one time. It uses three standard size servos in it's design which are controlled by one of my serial servo controllers that has been modified to include a walking algorithm. Crawler V1 has the option of either being fully autonomous or remotely controlled via it's onboard serial port. At the present time it's only equipped with basic sensor such as whisker tackle sensors. It has three of these whisker tackle sensors that are mounted on the front of Crawler V1.
Above are photos taking during the building of Crawler V1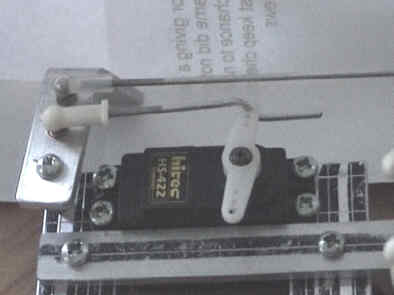 Above is a photo of the mechanical linkages from the servo to the legs. Note that I have used ball joints, which allow easy and smooth movements of the legs and also have the advantage of being adjustable.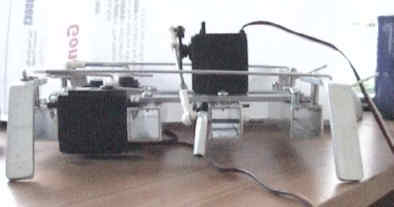 A "birds eye" view of Crawler V1 showing all of it's linkages.